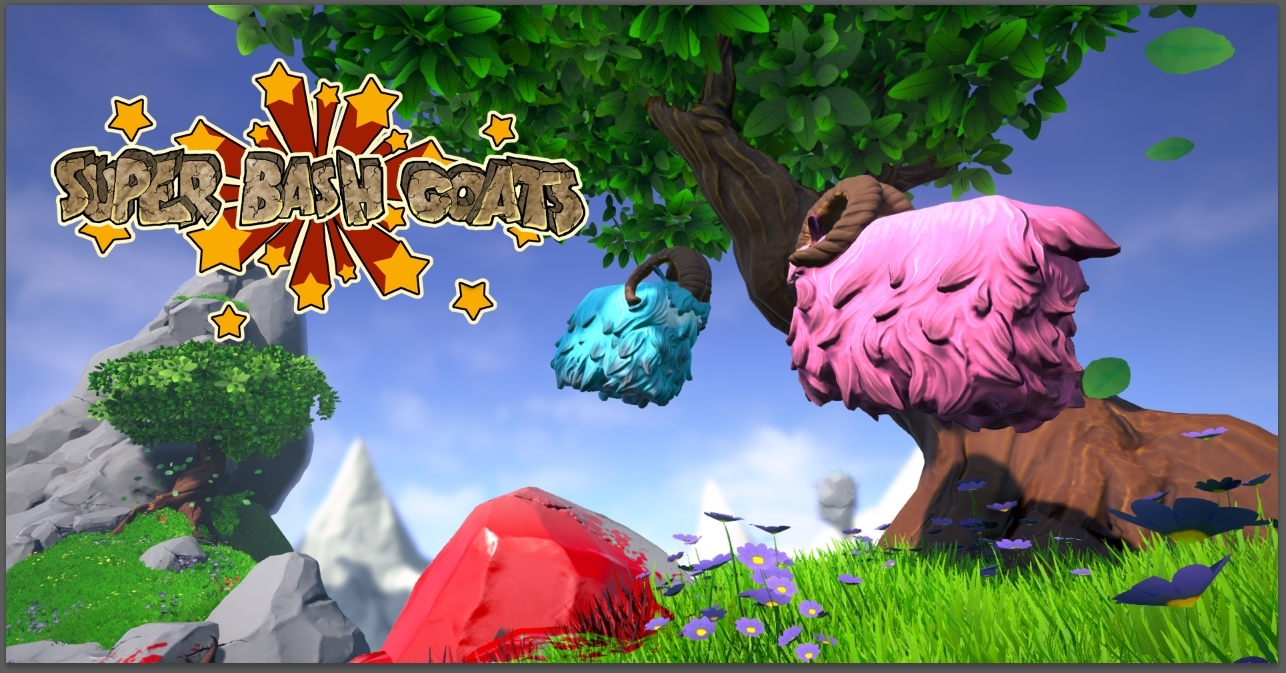 Super Bash Goats
A downloadable game for Windows
Super Bash Goats
---
Super Bash Goats is a local multiplayer brawler game, where you and up to three friends play as goats in a mountain landscape. Make a bloody mess by bashing your friends into rocks, to be the last goat standing!
---
The Game
In some beautiful mountains somewhere, a group of goats live peacefully with one another, sharing the luscious grassy hillsides and all the food and comfort it brings… Nah, just kidding. Super Bash Goats is the real goaty deal, and there can only be one king of the mountain that gets to graze the green grass!
In Super Bash Goats, you and up to three friends can play together in a fast-paced local multiplayer brawler with one single special mechanic – bashing.
The bash works in a simple way, charge it by holding down the X button, aim with the left-stick and then bash into your friend, hopefully launching them into rocks and effectively slaughtering them. Each player has 5 lives to spare, and the winner is simply the last goat standing. With a beautiful setting, cute goats… and bloody chunks and gore, Super Bash Goats mixes everything that a party game should have. Grab your friends, some controllers, a PC and start bashing!
---
Controls
No keyboard support! Gamepads required! (2-4 Player)
The game is PC only but each player needs a controller to be able to play. We have tested the game with Xbox 360/One and PS4-controllers ( ds4windows ), but it's possible that the game works with other controllers too.

Move & Aim: Left stick
Bash: X (Hold to charge)
Jump: A
Pause Game: Start
---
The Team

3D Artists:
Ludwig Lindstål | Paul O'Brien | Anna Asker | Laura Lohikoski
Designers:
Johan Holmér | Kim Sjöberg | Nora Silow | Mario Strand
Music:
Samuel Dangoor Ehnberg
Sound:
Christopher Mauricci
---
Initially Super Bash Goats was part of a school project and we have since then been developing the game in our spare time alongside our studies.
Special thanks to Samuel Dangoor Ehnberg and Christopher Mauricci for helping out with the music and sound effects!
---
Like us on Facebook

Please don't hesitate to leave a comment telling us what you think of the game. Enjoy!
---
| | |
| --- | --- |
| Published | May 18, 2017 |
| Status | Released |
| Platforms | Windows |
| Rating | |
| Author | SomewhatBasicGames |
| Genre | Action, Fighting |
| Made with | Unreal Engine |
| Tags | Beat 'em up, blood, Colorful, Cute, Fast-Paced, goat, Gore, Local multiplayer, Unreal Engine |
| Average session | A few minutes |
| Languages | English |
| Inputs | Xbox controller, Gamepad (any) |
| Multiplayer | Local multiplayer |
| Player count | 2 - 4 |
Comments
Log in with itch.io to leave a comment.
How can I fix the graphics ratio so the game will fit inn my screen
Could you make an option to turn the quality down? I just have a laptop, an its pretty laggy. Please fix!
I'm running a Windows 10 64-bit and I cannot do anything when the game starts. I'm stuck looking at the home menu.
Make sure that you have your controllers plugged in before you run the game.
Ah. Just read the "no keyboard support" header in the game details. I'll just uninstall it.

Are there any plans for a Linux version ? Your game really looks amazing and a lot of fun :D

We have looked in to it and if it's not too hard I hope we can do it during the summer.
hi i use x360ce to emulate my controller to the game but it only makes controller 1 works but controller 2 does not work i have pc controller not ps4 controllers so i cant use DS4, i am using windows 10 on my pc
thanks

Imgur sent me here! but this game is fucking amazing! This is my new party game! I'd like to make a video on this game eventually (probably when it supports obs) But as it stands. You've made a really fun game. But just an fyi the whole launching systems is still unknown to me, maybe have who ever can spam faster has higher driving power on the person hit. All and all, keep up the good fucking work! This game is going to be awesome!